Residenzen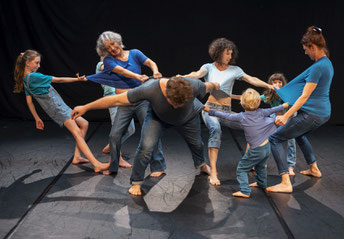 MISCHPOKE
tanzfuchs PRODUKTION
14. - 19. September 2019
Der Jiddismus MISCHPOKE, steht für Familie, Gesellschaft, Sippschaft.
Jede(r) ist jemandes Kind, doch Familienkonstellationen sind so vielfältig wie Beziehungen zwischen Menschen nur sein können. Das Tanzstück MISCHPOKE spielt berührend und humorvoll, sowie energisch und impulsiv mit dem Beziehungsgeflecht zwischen familiären Generationen. In dem Teilhabe-Projekt mit professionellen Tanzschaffenden und ihren Kindern zwischen 3 und 71 werden die Potentiale, Veränderungen und verschiedenen Qualitäten der Körpergefüge zwischen den Performer*innen durchleuchtet und zerwühlt. Eine MISCHPOKE mit Tentakel und Fühler zieht durch den Raum, um gemeinsam mit dem Publikum den Kosmos Verwandtschaft neu zu entdecken.
02.11.2019 (Premiere) + 03.11.2019, ehrenfeldstudios Köln
09./ 10./ 11./ 12.11.2019, tanzhaus nrw, Düsseldorf
Von und mit: Antonia Ritzenhoff, Arthur Schopa, Caspar Winkelmann, Emily Welther, Barbara Fuchs, Jörg Ritzenhoff, Karel Vanek, Louis Schopa, Lovi Voigt, Lucas Cualbu, Nora Pfahl, Odile Foehl, Pella Voigt, Sonia Mota / Best Girl: Sara Boehm / Idee und Regie: Barbara Fuchs / Komposition: Jörg Ritzenhoff / Licht: Wolfgang Pütz und Barbara Fuchs / Kostüme: Stefanie Bold / Dramaturgie: Henrike Kollmar und Ursula Nill / P&Ö Arbeit: Kerstin Rosemann
"MISCHPOKE" ist eine Produktion von tanzfuchs PRODUKTION, koproduziert durch das tanzhaus nrw im Rahmen von Take-off: Junger Tanz, gefördert durch das Kulturamt der Landeshauptstadt Düsseldorf sowie das Ministerium für Kultur und Wissenschaft des Landes NRW. Weiterhin gefördert durch das Kulturamt der Stadt Köln, der Kunststiftung NRW und das Ministerium für Kultur und Wissenschaft des Landes NRW. Residenz im Rahmen der NRW Mittelzentren Förderung Bonn. tanzfuchs PRODUKTION erhält die Spitzenförderung des Landes NRW.
PHILOSOPHY 
Xeni Alexandrou / Andrea Rama
21. April - 05. May 2019
Andrea Rama and Xeni Alexandrou are working on their new project PHILOSOPHY which will premier in Open Spaces of Tanzfabrik in Berlin, on July 2019. 
PHILOSOPHY is a dance solo that deals with the representation of the human form in a surrealistic environment. The dancer performs in front of a large-scale broken mirror, introducing a second human being,
who does not exist: her/his own reflection in the mirror.
The inspiration for this project is the Third Man Argument, first offered by Plato in his dialogue "Parmenides"
(132a–b), and is a philosophical criticism of Plato's own theory of Forms. He posits that if a man is a man because
he partakes in the form of man, then a third form would be required to explain how man and the form of man are both man, and so on, ad infinitum. So we always need a third entity - a third man - who confirms that, indeed, the form of a man and the man are both one and the same thing: a man.
PHILOSOPHY builds the "impossible human" on stage. Very much like Aristotle's "Third Man Argument", new possible forms that the body might be able to take on - apart from the primary form that he/she assumes in everyday life - are being suggested. 
The mirror's power of refraction as well as the refracted, inhibited movements promote a potentiality of the dancer's new forms on stage, and - by extension - of every existing human.
Concept, choreography: Xeni Alexandrou // Performance/Co-creation: Andrea Rama // Sound design : Yorgos Laliotis 
Production Porson's Khashoggi. In residency at La Ménagerie de Verre (Paris), Tanzfabrik (Berlin), Duncan Dance Center (Athens) and NRW Mittelzentrum Bonn.
With the support of Focuna/Fonds Culturel National (Luxembourg)
GENETRIX  
József Trefeli  / Rudi van der Merwe /  VICTORIA
09. - 19. Januar 2019
"To be ignorant of what occurred before you were born is to remain always a child. For what is the worth of human life, unless it is woven into the life of our ancestors by the records of history?" Marcus Tullius Cicero
GENETRIX is an international contemporary dance collaboration bringing together the experience and knowledge of three choreographers/performers and a video artist; two artists based in Australia and two in Switzerland. Each of the three choreographers/performers focuses on a grandfather to explore their respective Asian, African and European heritage to create three interlinked solos in one evening-length work. The medium of video provides context through projected images developed in collaboration with each choreographer embodying these ghosts from the past. The creative process explores the themes of history, patriarchy, superstition and epigenetic inheritance by means of personal histories.
Epigenetic inheritance is an unconventional finding. It goes against the idea that inheritance happens only through the DNA code that passes from parent to offspring. It means that a parent's experiences, in the form of epigenetic tags, can be passed down to future generations. As unconventional as it may be, there is little doubt that epigenetic inheritance is real. In fact, it explains some strange patterns of inheritance geneticists have been puzzling over for decades. https://learn.genetics.utah.edu/content/epigenetics/inheritance/  
BIOGRAPHIES
József Trefeli - Australian born of Hungarian origins, naturalised Swiss in 2017, József graduated from the University of Melbourne VCA with a Bachelor of Arts in Dance in 1992. After working with numerous Australian choreographers Trefeli embarked on a journey to explore dance around the world before settling in Switzerland where he has since been based. József has achieved critical acclaim for his many and varied dance performances and numerous choreographic works that have toured the globe. In collaboration with Gábor Varga, József received a Swiss Dance Award in the category of Current Dance Works of the seasons 2015 – 2017 for the choreography "Creature". - jozseftrefeli.org
Rudi van der Merwe was born and grew up in Calvinia, South Africa. He studied theatre and French Literature at the University of Stellenbosch (1996-99) all the while maintaining independent activity working in theatre, dance and television. From 1999 to 2002 he studied Modern Literature and Cinema at the University Marc Bloch in Strasbourg
and partook in ex.e.r.ce at the CCN of Montpellier. Since 2004 he has worked as a performer with, among others, Gilles Jobin, Cindy van Acker, Perrine Valli and Yan Duyvendak and has collaborated with Ayelen Parolin, Dana Michel, Jòzsef Trefeli, Marie-Caroline Hominal and Béatrice Graf on a variety of diverse and multidisciplinary projects.
His creations include I'd like to save the world, but I'm too busy saving myself created in collaboration with Susana Panadès Diaz, Solstice, Miss En Abyme, Trophée and Buzz Riot. In 2014, he obtains a diploma in post-production from CADSchool Geneva and in 2015 a postgraduate diploma in cinema from Raindance London.
VICTORIA trained at the VCA, Melbourne, Australia. She performed and toured extensively with European and Australian companies Cie Nomades, Cie Gilles Jobin, Micha Purucker, Jozsef Trefeli, Fiona Malone, Bernadette Walong, with Australian Dance Theatre for Superstars of Dance. She co-created and toured 'Starstruck' and 'The Ballad of Herbie Cox' through Europe, Canada, Los Angeles and Australia. Victoria was Dancehouse Housemate XI in which the work 'Floored' was presented in 2013. Victoria created 'Do You Speak Chinese?' which premiered with critical acclaim in March as part of the 2015 Malthouse season for Dance Massive and toured to Shanghai International Arts Festival RAW!Land and Bendigo 2015. Victoria choreographed  'Fire Monkey' with Arts Fission, Singapore and 'Grotto' for AsiaTOPA. Recently she has created, 'Viral', for PPY Sydney Dance Company and toured What Happened in Shanghai to Shanghai. Victoria's practice investigates physicalising concepts in relation to histories of self, peoples and place. - victoriachiu.org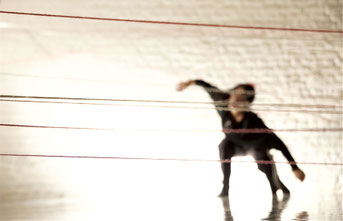 VOX
David Hernandez + Collaborators
18. - 24. November 2018
Public Showing: 24.11.2018, 20 h, Theater im Ballsaal
Vox is the current dh+ production will be premiered January 16th at STUK in Leuven.
VOX unites three strong artistic voices from three distinct disciplines: electronic music, visual arts and choreography. Electronic musician and composer Zoë McPherson, Croatian stage and costume designer Zdravka Kirigin, and choreographer David Hernandez push the boundaries of their crafts, and through experimentation with dancers Colas Lucot, Marie Viennot and Anna Kempin, many voices combine into one powerful, polyphonic and transdisciplinary show.
WHAT IS WHO AND WHO IS WHAT THAT SPEAKS?
Vox began with the idea of expanding some of the elements from David Hernandez' solo work in dance, theater and music to a core group of dancers and through artistic experimentation with collaborators from other disciplines.
Sound artist and producer Zoë McPherson blends live recordings of the dancers' voices and breathing with source material to create a hypnotic electronic soundscapes and polyrhythms. Croatian artist Zdravka Kirigin's intimate universe pushes the dancers to invent, transforming light and sound while they move, expanding form and rhythm into new layers of visual poetry. David Hernandez' signature detail in crafting the interplay between space and movement sets the whole conversation in motion, inviting the audience to the cusp of where voice brings meaning to movement.
"For this project I decided not to rely on text to convey meaning but rather to derive meaning from intention. I approach the voice itself rather than the content of a word the voice might say. The experience of watching this unconventional storytelling is intended to both entertain the public and provoke reflection on meaning and the use of their own voice to communicate in a plethora of different ways." - David Hernandez
BIOGRAPHIE
David's unique choreographic voice and detailed dance language has brought critically acclaimed work to stages across Europe for over two decades. Since 2015, he has deepened his choreographic research through a partnership with Cacao Bleu vzw  under the banner dh+ / David Hernandez and Collaborators. Within this framework, he created and toured the productions For Movement's Sake, Hullabaloo  and Sketches on Scarlatti.
In addition to creating choreographic work with a core group of committed dancers, he continues to influence new generations through his pedagogical activities as a faculty teacher at P.A.R.T.S and guest teacher for various education programs and studios internationally, teaching from his own pedagogical approach called Dynamic Movement Systems which he has been developing for the last several decades.  He also created commissioned works for schools, companies and festivals such as Skånes Dansteater, Susanne Linke Company (Trier), Folkwang Tanzstudio (Essen) and Zagreb Dance Company.
Having begun his artistic career as a singer and student in Opera, Jazz and Studio Music at the University of Miami in his home state of Florida, USA, David continues today to nurture his musicianship through the projects Rêve d'Elephant Orchestre with Michel Debrulle and in the early music ensemble Graindelavoix. With over 30 years of stage and arts experience under his belt, David continues to push the limits of his craft through his passion for multimedia, storytelling and composing richly poetic worlds on stage and off.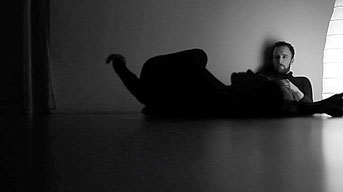 YET TO BE BORN (working title)
Martina De Dominicis/ Alberto Cissello/ Lorenzo Romano
18. August - 02. September 2018
Public Showing: 28.08.2018, 18 h
Studio 5, Tapetenfabrik, Auguststr. 10, Bonn-Beuel 
Starting from a physical research represents a necessity to go back to the simple body presence and its stunning meaningfulness by simply being, in a moment where common tendency is to decorate.
The first studio of "Yet to be born" took place in Vienna, in November 2017. It's a research that started from exploring the resonance of the body presence in time and space, focusing on action rather than intention, on the physical gesture rather than its meaning.
Therefore different composition tools were used to experiment on the variety of movement qualities. Rhythm related tasks for example were largely explored to modulate dynamics, and create a landscape where the body is constantly waiting for the right moment to get into action. The simple action of BEING still and balancing this potential energy trough time and space, is creating tension and expectation in the viewer.
This brings the research to another level: trying to modify the way a viewer can perceive the time flow. And by exploring the task of extending or compressing time, the outcome is a sense of distortion, which gives to actions  an interesting touch of absurdity. Images rather illusive keep appearing and dissolving, generating a sense of surreality that doesn't allow the observer to catch a clear interpretation of them.
BIOGRAPHIES
Lorenzo Romano (Florence, 1985) studied composition and electronic music with Beat Furrer, Salvatore Sciarrino and Marko Ciciliani. His music is focused on transcription and elaboration connected with new technologies. His compositions have been played in Europa and America in many Festivals and they have been awarded in several international composition competitions. He works regularly with dancers and choreographers: in the past years he developed a collaboration with the dance company of the Graz Opera, composing original music for contemporary dance pieces. He's founding member and composer in residence of Schallfeld Ensemble. - lorenzoromano.com
Martina De Dominicis (Pescara, 1989) started in early age training ballet technique in Pescara and later in Rome and Florence. Since 2010 she started to work as dancer in several companies: Junior Balletto di Toscana (IT), Balletto di Milano (IT), Oper Graz Tanzcompanie (AT), Stadttheater Pforzheim (DE) and From  2016 she started collaborating with CocoonDance Company (DE/CH). In 2014 she choreographed a short piece ("Next?") for the OperGraz ensamble. Ultimately she is in the process of creating her own piece, and she works for MAA* Kulturverein In Vienna as choreographer and physical coach for the actors.
Alberto Cissello (Asti, 1989) is an Italian freelance dancer and dance teacher currently based in Vienna. He receives his education in Torino in hip hop, ballet and contemporary dance. Since 2009 he has been working as a dancer both in Italy and abroad: Compagnia EgriBiancoDanza (IT), Oper Graz Tanzkompanie (AT), ConTrust Collective (DE) and cieLaroque/Helene Weinzierl (AT).
Meanwhile he created solo pieces which have been performed in Italy (1st prize Solocoreografico choreographic competition, Turin; Miniatures Festival, Perugia), Austria (Oper Graz) and Germany (Essenziale Festival, Essen). As a teacher he has held workshops for IGTanz Steiermark (AT), Divadlo Štúdio Tanca Festival (SK), Festival Spectrum (Villach, AT), tanzimpulse Salzburg (AT) and Universidad Nacional de Heredia (CR).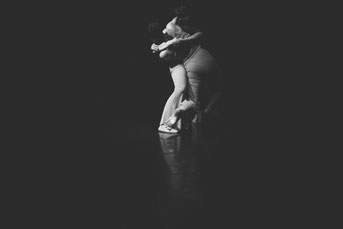 JUST LIVING MATTER
Amanda Romero/ Greta Salgado
06. - 17. August 2018
The body can be seen just as biological matter. Before us, there is the first cell, combined by an egg cell and a spermatozoon. The first step towards our independence has been made. The cell divides itself and each half divides itself over and over again, with great ambition. Almost already celebrating life and what we like to call freedom. This is how we are born,
by a random process that very determined aims to create life. Isn't it so absurd and strange? Maybe even eerie? One afternoon, when we were asking ourselves these questions, we felt like a tumour. We felt our bodies as if they were tumorous matter, so unpleasant and extravagant. We are an alienation of what we think we are, of our existence, of our bodies. Our bodies, which are growing from the sickness of the formation of life, of biological matter. Doesn't life and all the problems we create, all the needs we develop, all our feelings and desires, sound so absurd?
We developed these thoughts from the idea of "the body as a nervous matter", that is craving to feel something intense, something that calms those nerves to feel alive. We took that idea from the book of Tristan Garcia "La vie intense : une obsession moderne", which was the starting point for the first version of our concept.
A video which visually describes our images is "order from chaos" from Maxime Causeret: 
We mainly want to work by creating images that transmit the alienation of life creation. As you can see in the video which is linked below, we use both our bodies to create one single functioning "thing". Partnering techniques will be our tools to do so, by using lifts and contact points to create the illusion of a strange creature that forms and deforms, similar to the effect that the video animation of Causeret does. Apart from that we will use also single bodies, to play with the separation and fusion of cells. To create these effects, we will most of the time work with an outer eye and invite people to watch and comment our rehearsals.
Video material: Performance of the first phase of Incubator Residency (Filming and editing: Maurits Boettger):
http://mauritsboettger.com/Amanda&Greta.mp4
Özlem Alkis
24. Juli bis 6. August 2017 
Özlem Alkis creates transdisciplinary formats and present her works in various mediums; stage, installation and video. She was born in Istanbul and lives now in Cologne. She is one of the co-founders of the Amber Art and Technology Festival in Istanbul, which she also co-directed until 2012. In 2012, she directed Istanbul edition of Special Issue European Project that encourages developing discoursive practices in Performing Arts. In September 2015, with other artists she founded ehrenfeldstudios e.V., Cologne.
"I am interested in creating trans-disciplinary formats in which my understanding of movement and dance would evolve in unforeseen directions through these collaborations. For that reason, I choose my partners for each piece according the necessities of each topic. Our exchange starts with getting to know each other's practices and sharing each other's methods.
I find it important working with the same group of dancers, so that our shared history in building common praxis and language for each piece could be developed further (accumulate) in dancers' body. In doing so, we can understand better what kind of knowledge that each mover carries in her own history and develop strategies through.
Building shared history (building praxis and language) helps me to recognize what do we know "doing" and what we do not yet know. "The unknown" makes me excited. Something that is not yet imagined, something that cannot be imagined. Something that appears only through shared process of praxis through the conscious and unconscious exchanges between participating (collaborating) artists. 
This is why I am interested to create zones of "unknown" that are also "unstable" during the rehearsal processes that one can question further one's own understanding of dance, movement and aesthetics. I could say that this is beginning of composition; to shift and slightly alter what do we already know about the things." (Özlem Alkis) 
Rhiannon Morgan & Andra Rama
18. bis 24. Juni 2017 
Public Showing 24.06., 18:00 Uhr, Tapetenfabrik
Rhiannon Morgan completed her studies at the age of 17 in the Conservatory for Music and Dance of Luxembourg. She sings and play violin. She graduated with a BA from The Rambert School Of Dance and later on completed her Masters degree at London Contemporary Dance School (2009/2010), The Place (UK). As a professional dancer she collaborated with Akram Khan (2012), Cocoon Dance Company(2010/2012),
Henri Oguike Dance Company ( 2011-2013), Nicholas Vladyslav (2013), National Theatre of Northern Greece (2013/2015) and Anu Sistonen (since 2011/2016) to name a few. For the last 6 years she has been teaching workshops all over Europe and has been collaborating with Andrea Rama in several on going projects as well as assisting him during various workshops and classes for professional dancers.
Andreas Rama has graduated from the State School of Contemporary Dance in Athens (GR). He's co-founders of Porson's Khashoggi since 2010. The company works intensively with the dimension of time as a fundamental element of movement. The audience is invited to participate in rapid journeys and slow travels around the performance. P.K. creation's has been presented in Germany, Luxembourg, France, Italy, Poland, Greece & China. Andrea colaborated with contemporary dance artists & theater directors such as Sasha Waltz & Guests (since2013), Anton Lachky(2011), Fang-Yu Shen (2014), MS Schittmacher(2015), Roes Dance Theater (2009), K. Rigo (2008), Antzela Brouskou (2011), Gianni Kaklea (2012) to name a few. In 2014 Wim Vandekeybus invited him for research process. He's teaching at Dance Companies/ Institutions as National Choreographic Center of Luxembourg, Henny Jurriëns Foundation (NE), Tanzfabrik Berlin, Marameo Berlin, Die Etage, Seneca Intensiv, State Theater Heidelberg, Equilibrio Dinamico (IT), TanzBüro Basel, Centrum Kultury Lublinie & Szczecin (PL), Austria, Aktina Prof School of Dance (GR), Minsheng Contemporary Museum (China), ZKM Museum of Media Art (DE), HFG University of Media Arts (DE)  a.o. Short Description
Project "3,14π" proposes a new and developed idea of Dance through Running. Starting from the notion that to Run is a natural thing which also holds a potential to be developed as movement in general. Run, as a simple every day movement which would result in a direct impact with the audience. A movement that is familiar to each of us. The process of a circular Run in an anti-clockwise direction imitates the set up of races. Our observation is that our minds tend to interpret that "run moves right to left", so we perceive right to left movements (as viewers) as more natural and assimilate easier with our eyes/minds. How direct and simple can the impact of a Running process be in terms of human participation and observation? A process that requires a full body presence. Creating a certain tone and rhythm that colours the actual space and the ways we relate to self, the other and to the rest of the environments. A process of building our rhythms as second by second/minute by minute we organise an addictive ritual that opens all possible pathways. The varying textures and density in each footprint as the sole of the foot comes into contact and leaves the ground tracing a sound signature with steps and breaths. Our breaths and steps becomes the physical soundtrack. What can we build emphasise/ develop and challenge with the sounds of our bodies?
No matter our speed, style or where we start, we end up in a place where we still will be running. Adapting, staying flexible and merging all sources of inner or outer input, "3,14π" proposes an investigation in equal terms of physical condition/precision of movement vocabulary which by reacting/listening awareness creates a strong kinaesthetic impact. Everything we do through running inspires, guides and reminds us how vital it is to be active, each decision a responsibility for the environment we wish to create/inhabit. The environment/space of the run and its ability to connect us all directly to the sense of freedom it generates as we Live, Work and Run as part of the Global Community.
Tian Rotteveel                               
HEARTCORE                                                          
in Kooperation mit ZAIK Köln                            
vom 10. bis 17. Dezember 2015         
HEARTCORE ist ein performativer Forschungsraum für den körperlichen Ausdruck menschlichen Klangs: die Vorbereitung, Ausführung und der Nachhall von Lauten im Körper. Die Performer_innen schlagen einen Klangpfad ein, folgen eigenartiger Musik und eignen sich auf ihrem Weg Fantasiesprachen und klingende Mantras an. Zwischen aktivem Zuhören und dem Erzeugen von Live-Musik orientieren sie sich an immer neuen Strukturen und schwingen mit ihnen durch den Raum – bis ins Innerste des Herzens.
TIAN ROTTEVEELhat am Koninklijk Conservatorium Den Haag (NL) Musikkomposition studiert, Tanz an der SEAD (AU) und studiert derzeit Choreografie am HZT Berlin. In seiner Arbeit ist Klang ein Prozess, der sich in Musik, in Sprache, aber auch bloß in schiere Empfindung materialisieren kann. Tian hat u.a. zusammengearbeitet mit: MAE-Ensemble, Rosa Ensemble, Igor Dobricic, Diego Gil, David Zambrano, Jeremy Wade, Lea Martini und Kristina de Châtel.
Premiere: 11. Februar 2016, Sophiensaele Berlin
Weitere Aufführungen: 12./ 13./ 14. Februar 2016
Sung-Im Her 
YOU ARE OKAY!    
im Rahmen der Tanzrecherche NRW #17                
vom 28. September bis 15. November 2015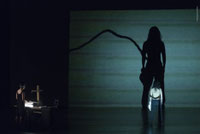 Sung-Im Her studied contemporary dance at Han-Sung University in South Korea where she achieved Master degree as. Then she moved to Belgium in 2004 for choreography studies (2nd cycle) at P.A.R.T.S. After graduation, she has been working with Jan Fabre/Troubleyn, Les ballets C de la B, Needcompany and Abattoire Ferme. In parallel since 2011, she started to develop personal work as well. "You are Okay" is her 5th collaboration work.  
Currently she is selected to be part of "testbeds catalyst co-lab", a research & development programme supported by the University of Bedfordshire, Arts Council England and Luton Culture. She is working work both with university students and the local community, teaching workshops, and researching and
choreographing a dance piece focusing on immigration and global citizenship. - www.sungimher.com
During her time at the RCA, where So-mang Lee completed a Masters degree in Communication Art and Design Somang developed a unique way of working to seamlessly blend visuals with music. She creates innovative performances combining shadow puppetry, animation and multimedia technology. These are projected onto the big screen to become a fully immersive experience. Somang have been collaborating with musicians, film and theatre makers.  - www.somanglee.co.uk
Research
During NRW tanz recherche period, she interviewed Korean immigrant workers who moved here more than 40 years ago. The question was if and how they are integrated in the society. Where is home for these people uprooted
their origins? In a world in which new generations live as global citizens these questions are particularly important. What does home mean? Is it possible to find a new home? And what does it mean to be a stranger?
Tanzrecherche NRW wird gefördert durch: NRW KULTURsekretariat Wuppertal
Lecture demonstration YOU ARE OKAY!: 14.11.2015, 17:00 Uhr - Eintritt frei 
Werner Nigg (CH)
im Rahmen einer Koproduktion mit dem NRW-Mittelzentrum Bonn                         vom 24. August bis 28. September 2015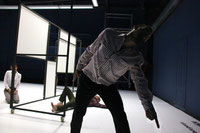 SCATTERED LUNGS ist ein Stück über die individuellen Wünsche und Vorstellungen von einer Zweisamkeit, einer Partnerschaft oder einer zwischenmenschlichen Beziehung in Zeiten von Tinder, Scruff und Elitepartner; in Zeiten der vielfältigen Optionen auf der Suche nach Wärme und Geborgenheit.
Werner Nigg, im Schweizer Kanton Graubünden aufgewachsen, folgte nach seiner Ausbildung an der landwirtschaftlichen Berufsschule seiner Tanzbegeisterung und studierte Zeitgenössischen Tanz an der ZürichTanzTheaterSchule und an der Codarts University for the Arts Rotterdam. Seit 2003 arbeitet er mit
verschiedenen Compagnien u.a. in Belgien, Österreich, den Niederlanden, Dänemark, Frankreich, so mit Daphne Verhelst, Willi Dorner, Cie Ah mon amour, Jean G. Weis, Ryckewaert & Verhelst, Mancopy, CieThor und in den letzten beiden Projekten mit CocoonDance. Seit 2002 choreografiert er eigene Stücke.
Choreografie, Idee: Werner Nigg // Performance, Tanz: Tanja Marin Friđjonsdottir // Dramaturgie: Judith Ouwens // Musik: Samuel Reissen // Kostüm: Constanza Friedrich
Premiere: 14. Oktober 2015 // 20 Uhr // Theater im Ballsaal
Weitere Vorstellungen: 15./ 17. Oktober 2015 // 20 Uhr