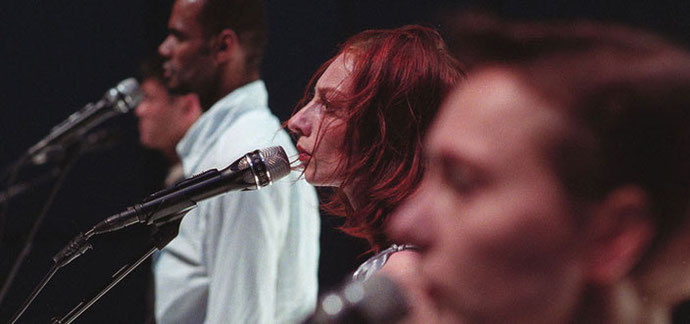 ABOUT COCOONDANCE
"The works of the Bonn's CocoonDance ensemble attract its audience, sidestep, encapsulate themselves and go along: thus, observation alone already becomes a kind of dance. Steps to the right and left, jumps and turns. However, the ensemble leaves plenty of space for their performance – thinking and feeling. Patterns of narration and perception are then the core topics that choreographer Rafaële Giovanola and dramaturge Rainald Endraß explore in their productions in very different, but always highly elaborate ways, using selected dancers and special stage constructions, language, video, music and sound."
(Melanie Suchy, The DANCE PLATFORM Catalogue 2014)
CocoonDance was founded by choreographer Rafaële Giovanola and dramaturge Rainald Endraß in 2000. Swiss-born Giovanola was a soloist in Turin before being brought to the Frankfurt Ballett by William Forsythe for the duration of eight years. After this, she worked with Pavel Mikuláštik's Choreographisches Theater, with Bonn as the last station. Since 2000, CocoonDance has been producing and performing in the independent Theater im Ballsaal in Bonn; since the season 2004/05 the company also is curating the dance program and is responsible for organization and financing of the theatre. 
CocoonDance has established itself as a dance-arts institution with an extensive network not only within the artistic world, but also in the field of cultural education. It is characterized by the efficient and successful interplay of variable components which are:
- a professional company that operates with visiting freelance artists, national and international networks, co-producers, co-operations across the world
- a performance space which has established itself as a center for curated contemporary dance productions with two renowned international festivals and residence programs
- a young dance ensemble sponsored and has gained recognition with the public and political
- professional associations and innovative partnerships with local schools for the delivery of cultural education.
The engine of CocoonDance's 15 years of artistic development is improvisation and ensemble work, democratic structures and a tremendously constant teamwork. CocoonDance, who has been for years "consistently experimenting with new narrative techniques, artistic methods for contemporary dance" (Westdeutsche Zeitung) are touring on five continents by now and have been awarded numerous prizes, as well in the field of art education.  
The continuous work with media has led the company repeatedly to new provoking questions, working methods and the development of specific aesthetics of movement and dramaturgy. It's no longer just about the question of whether narratives are still possible, but how a representation (e.g. of the reality or the real body) is still possible at all. Therefore perception is thus a good starting point for a change in the practice of modern dance. The audience does not only participate in a (new) representation of reality, but in its generation. The work of CocoonDance can best be explained as a reflection about the dance and the body itself, as a shift of the dance space away from the narrative space into a space of distance and thinking. 
Press comments about  the company
»… CocoonDance receives more recognition for its work than ever: invitation to the 2018 Tanzplattform Deutschland (dance platform Germany), top-level funding from the state of North Rhine-Westphalia, Doppelpass (double pass) Plus funding of the Federal Cultural Foundation. It seems like the company is now fully fledged and has at the time arrived inside the dance.« (Melanie Suchy, Die Deutsche Bühne 06/2018).
»We are all spectators. A theme that Rafaële Giovanola and Rainald Endraß have been working on for years in their productions for CocoonDance and brought electrifying productions to the audience in NRW.« (Trailer, 27.07.2017)
»Like no other ensemble, the two dance creators venture repeatedly on seemingly complex topics and questions, only to reduce them to their core in their performances and to make them visible to the audience through movement and dance. Rarely, dance has been as eloquent as with CocoonDance.« (TANZwebkoeln, 26.06.2015)
»Hardly any company in Germany is working on their productions with a comparable aesthetic density.«
(Kölnische Rundschau, 27.06.2017)
»The Bonn ensemble CocoonDance is one of the intellectual responses in North Rhine-Westphalia to the contemporary challenges to the art of dancing. Untiringly, the company works on new narrative techniques,
artistic approaches.« (Westdeutsche Zeitung, 27.04.2015)
»Rafaële Giovanola has set off after the end of her career as a professional dancer. She has founded her own company, works as choreographer, is awarded prizes and nominations, and is constantly touring around the world with her latest projects. (…) With an artist's composure and no need to prove herself and to show others, Rafaële produces piece after piece. Success after success.« (VIP-Lounge, annual report, ballettanz)
»Just go to Bonn, at least those in Rhineland who want to see some dance.« (ballettanz, 2/2004)
»It's extraordinary to see how professionally CocoonDance has made its way into international Festivals.« (ballettanz, 2/2007)
»... a highlight of the independent Bonn dance scene ... .« (General-Anzeiger, Bonn)
»The works of Ballsaal´s resident group of Rafaële Giovanola and Rainald Endraß remain unbeatable, an absolute must for any local dance fan here, and, by no means, should it be missed.« (schnüss, Bonner Stadtmagazin)
»In the past years the independent Bonn group has made a name for itself by creating narrative
scenes of great intensity. Through set design, sensitive music and bodies coming in close contact with one another they have connected rich choreographic images.« (stadtrevue, Kölnmagazin)
»CocoonDance produced complex dance pieces… a considerable success.« (Westdeutsche Zeitung)
»CocoonDance are expanding their repertoire with modern dance and popular culture.« (stadtrevue, Kölnmagazin)
»CocoonDance covers the free and the state dance scene. They are coming up with refreshing and innovative ideas and they relate to the audience, without this, Theatre will reach a dead end.« (Die Rheinpfalz)
»What makes CocoonDance different from the others is the professionalism.« (k.-west)
»The company 'Cocoon' is working professionally, with success... « (General-Anzeiger, Bonn)