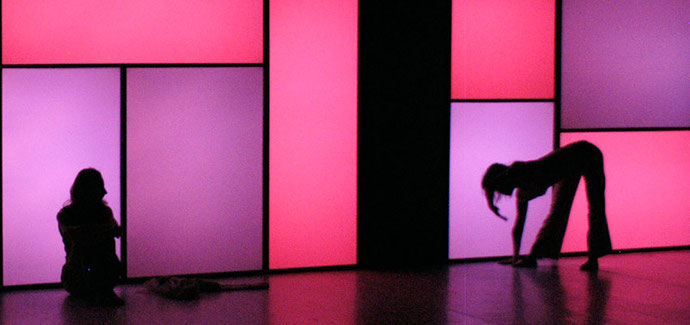 COVER ME
ABOUT THE PIECE
// World premiere: 20. November 2004
// Powered by Kunststiftung Nordrhein Westfalen / Ministerium für Städtebau und Wohnen, Kultur und Sport des Landes NRW / Bundesstadt Bonn
Dance-hysteria-identity-roll-playing. "COVER ME" centres around these subjects, conveyed by such elements as ego, self-perception, approach to the unknown, change and ambiguity. The dance production uses costumes and masquerade in a search for subjectivity and an inner balance.
I am many things and everything else simultaneously, everywhere. The constitution of the modern character is defined by its ability to create multiple selves. In the process the character causes a sensation of multiple identities. In the 19th century Professor Jean-Martin Charcot, founder of neurology, "staged" a spectacular "hysteria" demonstration to the public in Paris' "Salpêtrière". With his "discovery of hysteria" he perpetuated the myth of woman as a frightening, mysterious creature, which can be seen throughout the history of occidental culture. In this history woman embodies another reality, one to be treated at once as an object of mastery and of repulsion.
Time and time again "abnormal", "liar", and "hysterical" were attributed to her "otherness". Hysteria can also be understood as a distorted language of protest against the arbitrariness of gender role assignment. As "illness of selflessness" she uses a vast array of theater props in order to conceal the symbolic empty space of the character with an opulent masquerade.
Staging of the modern character, a postmodern form of hysteria, can be understood as a decision to contradict the usual images and stereotypes. What is fickle, uncertain, surprising, provides an alluring and seductive effect. Costuming and performance strategies, subjectivity through building on acting method, emerge as fashion. The stage is public, the street, a runway. Reflexion becomes a game without object to the modern question: Who am I?, which leads today into the indefinable.
BY AND WITH
Rafaële Giovanola, Bärbel Stenzenberger, Yoko Tani /// Direction: Rafaële Giovanola, Rainald Endraß /// Lighting Design: Marc Brodeur /// Choreographic Assistance: Antoinette Laurent, Marcelo Omine /// Sound Design: Stephan Mauel /// Costume Advice: Sabine Schnetz /// Set Construction: Frank Steinhöfer, Gerd Beissel, Wolfgang Waleschkowski /// Photography: Klaus Fröhlich /// Layout: Rolf Bartsch /// Concept and Dramaturgy: Rainald Endraß
PRESS REVIEWS
"Applause for an aesthetic and highly interesting undertaking."
(Bonner Rundschau)