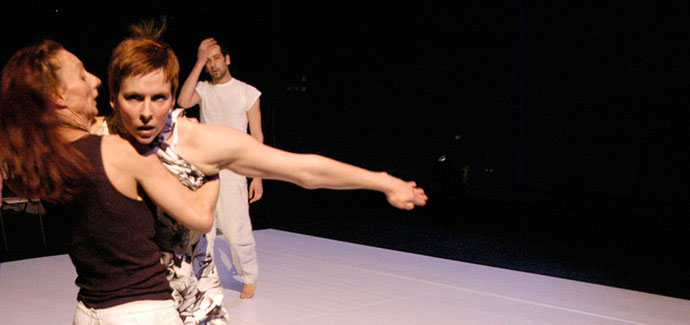 FOOL FOR YOU
ABOUT THE PIECE
// in Collaboration with Theater im Ballsaal, Bonn and Kulturbüro Krefeld
// Premiere: 28.05.2005
// Touring: 2005: Fabrik Heeder, Krefeld / Festival "Theater für alle", Schwankhalle (Bremen)
// Touring 2006: "Scènes Valaisanes": Les Halles, Sierre (CH)
// Powered by: Kunststiftung NRW // Ministerium für Städtebau und Wohnen, Kultur und Sport des Landes NRW / Bundesstadt Bonn // Fonds Darstellende Künste e.V. / Le Conseil de la Culture Etat du Valais
In FOOL FOR YOU, COCOONDANCE examines the phenomenon of the idiot or fool. They have always existed, everywhere, the village idiot, the eccentric, the lunatic with his completely individual view of the world. Some are amused by him, others afraid. At times he is a saint, other times a pariah. But he is always the disturbing-strange mirror of our own normality.   
BY AND WITH
 Jorgos Fokianos, Maria Nitsche, Marcelo Omine, Bärbel Stenzenberger
Choreography in collaboration with the dancers: Rafaële Giovanola /// Scenic and Lighting Design: Marc Brodeur /// Costume Design: Sabine Schnetz /// Sound Design*: Stephan Mauel /// Choreographic Assistance: Antoinette Laurent /// Coaching: William Nadylam /// Set Construction: Wolfgang Waleschkowski /// Photography: Klaus Fröhlich /// Layout: Rolf Bartsch /// Video: Sirpa Arvola, Torsten Schulz /// Concept and Dramaturgy: Rainald Endraß
*Music from René Aubry ("Ne m'oublie pas"), Camille Saint-Saëns ("Der sterbende Schwan"), Residents ("Icky Flix"), Bagdasarian ("The Alvin Show Theme"), Prince ("Nothing compares to you") performed by Jimmy Scott, Johann Sebastian Bach, "Goldberg-Variationen" performed by Glenn Gould (Recordings from 1955 and1981).
PRESS REVIEWS
"COCOONDANCE examines the eccentric who is marginalized, even if society has no real centre. This perspective is fascinating because all four performers are fragile yet create a revved-up vibrating power centre in an austere geometric black and white space Marc Brodeur conceived of and for which he provided the subtle lighting. Rafaële Giovanola´s original dancerly language suited the quartet brilliantly. Program director, Rainald Endraß provided the essential intellectual sharpness. It was a refreshingly amusing evenin" (General-Anzeiger, Bonn)
"Beautiful, intelligent dance ... worthy of applause." (Bonner Rundschau)
"The troupe offered a good hour full of truly unique entertainment. ... Nothing seemed right anymore, the world shattered in pieces, seeming meaninglessly reconstructed. The piece was amusing and ironically disjointed and remained true to its professional intention. For this there was enthusiastic applause." (Rheinische Post)