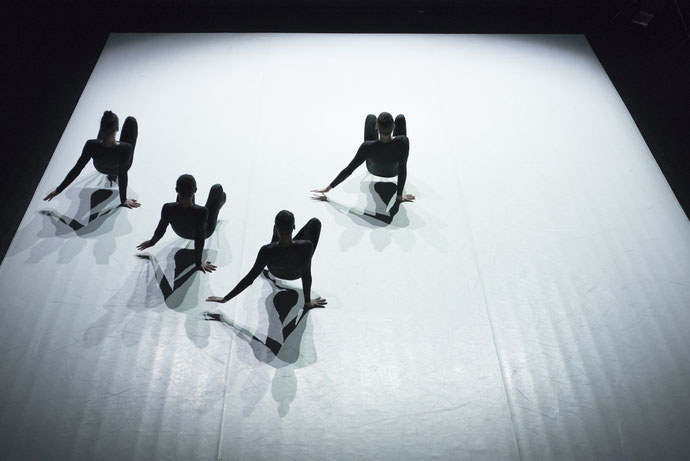 VIS MOTRIX
Repertory
2018 / 4 performers / stage: 10 x 10 m / 0:40 h: 
ABOUT THE PIECE
// Premiere: March 2, 2018, Theater im Ballsaal Bonn  
// In collaboration with: Théâtre du Crochetan Monthey, Malévoz Quartier Culturel, Ringlokschuppen Ruhr Mülheim, Theater im Ballsaal Bonn
// Funded by: Ministerium für Kultur und Wissenschaft des Landes Nordrhein-Westfalen, Bundesstadt Bonn
and within the frame of the residency programme: Théâtre-ProVS, Le Conseil de la Culture Etat du Valais,
La Loterie Romande
In its production VIS MOTRIX, the ensemble of the CocoonDance Company creates some strange as well as fascinating beings. The dancers seem to come from another world, they move through space and merge into an organism, a mixture of human being and machine, creating a hypnotic power that one can not escape. What is the driving force, the soul (Vis Motrix) behind the movements of these hybrid beings? CocoonDance continues with this production its research of the "unthought" body: transhumanism as a traumatic round dance that does not leave our unconsciousness untouched.
VIS MOTRIX is already the second production which has been developed in several stages over the course of months as a part of the company's "triennale", 3-year residence in the Swiss canton of Valais. Like MOMENTUM, which was initially inspired by an exchange with the non-academic movement patterns of Parkour, VIS MOTRIX started out with a workshop and subsequently independent research on the (male-dominated) techniques of breaking and krumping, and modifying and transforming these street dance styles with regards to hybrid and post-human energies and impulses.
// By and with - original line-up: Fa-Hsuan Chen, Martina De Dominicis, Tanja Marín Friðjónsdóttir, Susanne Schneider // Current line-up: Fa-Hsuan Chen/ Martina De Dominicis/ Tanja Marín Friðjónsdóttir/ Anna Kempin/ Susanne Schneider/ Marie Viennot // Choreography, direction: Rafaële Giovanola // Composition: Franco Mento // Light, space: Gregor Glogowski // Costumes: CocoonDance // Costume advice: Mathilde Grebot // Choreographic Assistant: Leonardo Rodrigues // Pictures: Klaus Fröhlich // Dramaturgy, concept: Rainald Endraß // Management: Mechtild Tellmann
Trailer: Michael Maurissens/ Carré Blanc Productions
PRESS CLIPPINGS
"... these bodies here seem like aliens. Alien in the form, alien in the movement, alien in the outfit. They seem to come from another world. Not human, not animal, not machine - and yet something of everything: hybrid beings as they display  through their movements. (...) In the last part of the piece, the lighting design gives the female dancers their faces back, they become more human. The floor is no longer their only element. (...)  In this VIS MOTRIX part, arms and legs not only now shoot aggressively upwards, but the dancers also slam their legs loudly on the floor. Finally, one would almost like to say with relief, finally. The dancers, Fa-Hsuan Chen, Martina de Dominicis, Tanja Marin Friđjónsdóttir and Susanne Schneider, are above all the ones who are strengthening the hybrid choreography by Rafaële Giovanola - oscillating between human and animal - through their strong presence."
(Klaus Keil, tanzweb.org, 04.03.2018)
"Fascinating Organism - CocoonDance creates with "Vis motrix" a female counter-project to its male-only predecessor production 'Momentum'. (Headline)
'Vis motrix', which stands for moving force, is, from the outset of its entire concept, directed towards a higher level of abstraction. It is notable that certain movement patterns of breakdance and its more aggressive variation Krumping are reflected in the movements - already the first twitching of the chest apparently derives from it. However, in the piece at the Ballsaal Theatre CocoonDance choreographer Rafaële Giovanola is just using these models to create something completely new.
Until the end, the female performers stay in a position with their backs turned to the floor and their faces looking up to the ceiling. Over the course of the piece, as the movements become stronger and the pulse of Franco Mento's music intensifies, they are never really able to leave that position. As hard as they try to get off the floor, standing up or jumping up on all fours, they always seem to be tied down to the ground by an invisible band.
For Fa-Hsuan Chen, Martina De Dominicis, Tanja Marin Fridjonsdottir and Susanne Schneider, it must be a tremendous challenge to endure for 45 minutes such an extreme body tension. They master it with bravery. Like insects they are gliding across the floor, turning 180 degrees in a flash, moving their limbs with a sudden jerk, and thereby creating for the spectator something that strangely oscillates between a biological organism and a mechanism. And that is very fascinating. Appropriately, the performance last Saturday ended in a strong applause. This unusual and exciting three quarters of an hour long evening would have deserved a few more spectators." (Bernhard Hartmann, General-Anzeiger Bonn, 05.03.2018)
"Fa-Hsuan Chen, Martina De Dominicis, Tanja Marin Friðjónsdóttir and Susanne Schneider are doing this kind of dance very intensively, to sheer perfection, fluently and with an admirable sense of timing!"
(Jürgen Bieler, Bonner Rundschau, 09.03.2018)
"Pure movement can not be visualized, but we can sense its magic as well as its mechanical effect inside every living being. At first, Fa-Hsuan Chen, Martina de Dominicis, Susanne Schneider and Marie Viennot are lying on the sprung floor in the Orangery at the Volksgarten; then they lift their arms behind their backs and move on hands and feet in a horizontal position. Raphaele Giovanola offers her audience a view of the female body never seen before. Just for this visual stroke of genius the production deserves attention.
Only briefly, towards the end, the black figures rise up. Beforehand, we only experience them as amphibians, gracefully moving and so refined in timing that, time and again, their repetitions surprise with their elegance and subtle humor.
The shadow play of Gregor Glogowski's light design multiplies the silhouettes of the dancers in a virtuoso manner, while the gentle, pulsating electro sound of Franco Mento grounds the spectacle.
Cocoondance shows how entertaining a production can be which is developed with strict formalism and playing out, with mathematical precision, multiple combinations of four bodies in space."
(Thomas Linden, Kölnische Rundschau,  March 20th, 2018)
"They appear like hybrid beings between human, animal and machine. Through the light design of Gregor Glogowski a filigree calligraphy emerges from their bodies and shadows, but signs of it remain indecipherable. The extreme body tension goes to the limits of what is physically possible. The dancers master the challenge brilliantly." (Elisabeth Eincke-Klövekorn, culture No. 145 / March 2018) 
"In VIS MOTRIX, which is so to say a female counterpart to MOMENTUM, CocoonDance choreographer Rafaële Giovanola challenges her dancers to a maximum physical performance. Vis means power in Latin. Motrix is the grammatically feminine form of engine. ... Mysterious hybrid beings who move strangely; alien, but by no means threatening. Their movements are not as archaically wild as in the male predecessor production and less aggressive than Krumping, but more abstract, elegant and graceful, though not less powerful.
Over the course of the 45-minute piece, the bodies steadily lose traction. They jump frog-like and increasingly standing up. But something pulls them down again and again, almost magnetically to the ground. ... The audience can feel what a tremendous endurance these always with their back to the ground moves demand from the four dancers. Just watching them is physically exhausting. Fa-Hsuan Chen, Martina De Dominicis, Tanja Marin Fridjonsdottir and Susanne Schneider are accomplishing in VIS MOTRIX an outstanding artistic and physical feat."  (Sandra Prüfer, www.bonnections.de / Access: April 13, 2018)
"They never rise on their two legs - except for a short exception, but then they fail on the solid verticalness, crashing and falling like waves. As previously in "Momentum", which was ennobled by the invitation to the dance platform Germany in March in Essen, "Vis Motrix" also pursues the depersonalization, without miming old-fashioned robots. It excavates an unfamiliar, soulless human component from the female dancers and their togetherness, which is meant to be futuristic and has something strangely magical about it: an ageless power." (Melanie Suchy, Stadtrevue Kölnmagazin, 4/2018)
"Anyone who has watched the guest performance of the Bonn dance ensemble CocoonDance at the Move Dance Festival at Fabrik Heeder leaves the hall both fascinated and enraptured. Fascinated because you rarely see such movements on the dance stage. Enraptured because the recent production "Vis Motrix" by choreographer Rafaële Giovanola unfolds a hypnotic maelstrom .... ". (Bettina Trouwborst, Westdeutsche Zeitung, Nov. 12.2018)